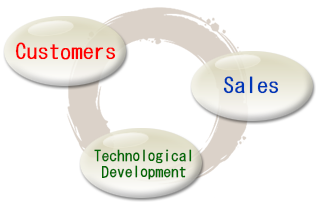 We are also focusing our efforts on technological development so that we can offer the best solutions by analyzing the various needs of our customers from multiple perspectives.
Our Technological Development Department is making the future by fully utilizing our wealth of experience and technologies.

We are developing addition alloys and processing devices used in the manufacture of cast iron, iron and steel though consultations with our customers and tests both inside and outside our company.



We have developed a porous ceramic-made immobilization carrier (Toyonite) used in bioreactors and similar.
This carrier offers even better enzyme immobilization capabilities and active expressions than conventional products. It can also be used repeatedly over a long period of time. Therefore, you will find this carrier active in the manufacture of foods, chemicals and chemical products made with enzymes.